Located in the heart of Frisco, Landon Development Company's newest project will be a master-planned, mixed-use development with a projected value upon build-out to be in excess of $1 billion. The site of approximately 600 acres is located on the west side of Coit Road, between Main Street and Eldorado Parkway. Purchased from Brinkmann Ranch, this piece sits directly across from Lexington Country; Landon's gated, master-planned community of over 1100 homesites.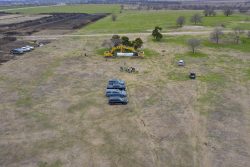 Current development plans include single-family residences as well as luxury apartments, and retail establishments. Landon Homes will be one of several featured builders offering homes of various types, sizes and price ranges. Landon Development has worked closely with the City of Frisco and Frisco ISD to also include land dedicated for the continuation of the Frisco Hike/Bike trail, about 16 acres for City of Frisco Parks, and 31 acres for FISD school sites. The transaction also introduces the opportunity for the City to complete Hillcrest Drive north from Main Street to Eldorado Parkway
An amenity center in the community will be a center of activity for residents of all ages. Award-winning architect Kyle Webb of Vail, Colorado is designing the proposed clubhouse expected to encompass about 12,000 square feet.  Planned spaces include a Great Room for events, a fully-equipped fitness center, HOA offices for on-site staff and verandas overlooking a resort-style pool and play areas.
Groundbreaking for this development occurred in March of 2021, and the projected date for pre-sales of homes is early 2022.